Michael Arndt
Michael Arndt
is an award-winning graphic designer whose love of animals and typography inspired this book. Raised in Kinderhook, NY, he now lives in New York City with his yellow dog Clooney who sometimes says woof and his black cat Aiden who often says meow.
Cat Says Meow: and other animalopoeia
is his debut book and recipient of a Kirkus star as well as national and international design awards.
Visit him on the web at:
www.animalopoeia.com
Email him at:
info@animalopoeia.com
Follow him on Facebooks:
www.facebook.com/animalopoeia
Follow him on Pinterest:
www.pinterest.com/animalopoeia
Follow him on Instagram:
www.instagram.com/animalopoeia
Jeff Baron
, the author of the Sean Rosen book series, comes to children's books directly from the world of show business. He sold screenplays to Disney and other leading producers, and he wrote episodes of many prime time TV series including The Tracey Ullman Show, Sisters, A Year in the the Life (Sarah Jessica Parker), and multiple projects for Nickelodeon. He is also an award winning playwright, with productions of his plays in 2015 in France, Germany, Brazil, The Czech Republic, Argentina, Australia, The Netherlands, Croatia, Israel, Romania, Italy and the U.S. His opera Song of Martina had its world premiere at Carnegie Hall.
Visit him on the web at:
www.jeffbaron.net
Deborah Blumenthal
is an award-winning journalist and nutritionist. She is the author of nineteen books, most of them for children, including
The blue house dog
, her latest picture book, and
A different me
, her latest young adult novel. She has been a regular contributor to
The New York Times
(including four years as the
Sunday New York Times Magazine
beauty columnist), and a home design columnist for
Long Island Newsday
. Her health, fitness, beauty, travel, and feature stories have appeared widely in many other newspapers and national magazines including New York's
Daily News
,
The Washington Post
,
The Los Angeles Times
,
Bazaar
,
Cosmopolitan
,
Woman's Day
,
Family Circle
,
Self
, and
Vogue
. Blumenthal lives in New York City.
Visit her on the web at:
www.deborahblumenthal.com
Marina Budhos
Marina Budhos
is an author of award-winning fiction and nonfiction. Her latest book,
Sugar Changed the World: A Story of Magic, Spice, Slavery, Freedom & Science
, co-authored with her husband Marc Aronson, was a 2010 Los Angeles Times Book Award Finalist. She has also published the young adult novel
Tell Us We're Home
and
Ask Me No Questions
, which has received numerous honors, including ALA Best Books and Notable, winner of the first James Cook Teen Book Award, NY Public Library Books for the Teenage, Chicago Public Library's Best of the Best, and is taught in school districts throughout the country. In 2016, she will publish two books:
The Eyes of the World: A Story of a Man, a Woman, & a Camera
, co-authored with Marc Aronson, about the photographers Robert Capa and Gerda Taro inventing modern photojournalism during the Spanish Civil War. She will also publish, a follow-up to
Ask Me No Questions
, taking on surveillance in a post 9/11 era. Her other books include
The Professor of Light
,
House of Waiting
, and a nonfiction book,
Remix: Conversations with Immigrant Teenagers
. She is currently an associate professor of English at William Paterson University, is married to the author Marc Aronson and lives in Maplewood, New Jersey, with their two sons, Sasha and Rafi.
Visit her on the web at:
http://www.marinabudhos.com/
Peter Catalanotto
Peter Catalanotto
has published 46 books for children, 16 of which he has written, including
Ivan the Terrier
,
Matthew A. B. C.
,
Question Boy Meets Little Miss Know-it-All
,
Emily's Art
,
Monkey & Robot
and
More of Monkey & Robot
. His book,
The Painter
, was featured on PBS's Storytime and in 2008 Peter was commissioned by First Lady, Laura Bush, to illustrate the White House Holiday Booklet. Peter currently teaches the first children's book writing course offered at Columbia University. Since 1990, he has visited over 1500 elementary schools in 40 states showing students his creative process from inspiration to final book.
Visit him on the web at:
http://www.petercatalanotto.com/
Jason Edwards
Jason Edwards
is an award winning author, writer, artist, educator, storyteller, scholar, athlete, producer of entertaining educational enrichment programs for schools and libraries, and an authority on children's anxieties who has over 20 years of experience developing innovative ways to entertain, instruct, and inspire children. Even his frightfully funny chapter books, the
Chronicles of the Monster Detective Agency
, help children by inspiring them to confront their fears and modeling ways to control anxiety, which has earned the books the Mom's Choice Award for Family Friendly Media and an endorsement from the Anxiety Disorders Association of America. In addition to authoring, Jason performs his Library Skills-Building MONSTER HUNT program and his Destination: INSPIRATION InterACTIVE StoryCrafting Assemblies and Workshops at over 100 schools and libraries across the nation, and his gift for teaching and inspiring children, and for illuminating anxiety issues for children and adults alike, have been featured in all forms of media including The
New Jersey Observer
, The
NY Daily News
,
WCBS TV
,
Talk of Connecticut Radio
, and
Sirius Satellite Book Channel
.
Email him at:
Jason@RogueBearPress.com
Visit him on the web at:
http://j81502.wix.com/MonsterAuthor
,
http://RogueBearPress.com/Authors.html
or
http://MonsterDetectiveAgency.com
Michael Garland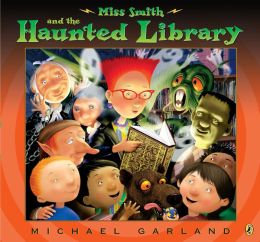 Michael Garland
is an award winning author and illustrator. His greatest success has been for writing and illustrating children's picture books. Garland's
Miss Smith's Incredible Storybook
won the California and Delaware State Reading Awards. He is author and illustrator of thirty children's picture books and illustrator for more than forty books by other authors. New books include
Lost Dog
,
Tugboat
,
Car Goes Far
,
Fish Had A Wish
published by Holiday House.
Fish Had A Wish
was a Star Review of Publishers Weekly and Kirkus Top Twenty Five Picture Books of the Year. New from Scholastic is
Where's My Homework?
Also from Scholastic,
Oh, What A Christmas!,
Grandpa's Tractor
,
Boyds Mills
was selected for the Original Art of Children's Book Show at the Society of Illustrators in NYC. Garland's recent book,
Miss Smith and the Haunted Library
made the New York Times Best Seller list. New from Dutton is
Miss Smith Under the Ocean
. Michael Garland has illustrated for celebrity authors like James Patterson and Gloria Estefan on best selling picture books. Michael Garland's illustrations for Patterson's
SantaKid
were the inspiration for Sak's Fifth's Avenue's Christmas holiday window display in New York City. Garland's
Christmas Magic
has become a season classic and is currently in development as an animated Christmas special. His work has won many honors and is frequently included in the
Society of Illustrators
and the Original Art of Children's book show as well as annuals from Print, Graphics and Communications Arts magazines. Recently, Michael Garland was included on the list of the top one hundred Irish Americans by
Irish American Magazine
. Michael Garland is frequently asked to speak at schools, literary conferences and festivals across the country.
Email him at:
garlandmp@comcast.net
Follow him on Facebook:
https://www.facebook.com/michael.garland.56?fref=ts
Find him on the web at:
http://www.garlandpicturebooks.com
or
http://www.michaelgarlandfineart.com
Gary Golio
Gary Golio
is a visual artist, musician, and psychotherapist. He is the author of the New York Times bestselling
JIMI: Sounds Like A Rainbow – A Story of the Young Jimi Hendrix
, named one of Kirkus Reviews' Best Children's Books of 2010 and recipient of the 2011 Coretta Scott King Illustrator Honor Award. Golio is also the author of
When Bob Met Woody: The Story of the Young Bob Dylan
, and Spirit Seeker: The Musical Journey of John Coltrane, named a Kirkus Reviews' Best Children's Book of 2012 and one of New York Public Library's 100 Titles for Reading & Sharing. His newest is
Bird & Diz
(Candlewick), about the creators and creation of Bebop jazz. Each story highlights an artist's roots and early influences, promoting the idea that artists are models of persistence and commitment, embodying values of imagination, hopefulness, and self-acceptance.
Find him on the web at:
www.garygolio.com/
Follow him on Facebook:
https://www.facebook.com/GaryGolio
Email him at:
Gary@garygolio.com
Natalie S. Harnett
Natalie S. Harnett
has an MFA from Columbia and has been awarded an Edward Albee Fellowship, a Summer Literary Seminars Fellowship, and a Vermont Studio Center Writer's Grant. Her fiction has been a finalist for the Mary McCarthy Prize, the Mid-List Press First Series Award for the Novel, the Glimmer Train's Short Story Award for New Writers, and The Ray Bradbury Short Story Fellowship. Her publications include
The Irish Echo
,
The Madison Review
,
The MacGuffin
and
The New York Times
. Her debut novel,
The hollow ground
, is an Amazon and Audible best seller; a Goodreads Book Group Worthy title; a Library Journal's "Debuts with Buzz" selection; and a San Diego Magazine's '5 Books to Read This Month' selection. She lives on Long Island with her husband and child.
Visit her on the web at:
http://natalieharnett.com/
Follow her on Facebook:
https://www.facebook.com/NatalieSHarnett
Steven Kellogg
(Photograph by Margaret Miller Reuther)
Steven Kellogg fell into a love of writing and drawing at an early age. He had a great appreciation for picture books as a child. Since the beginning of his writing career, Kellogg has authored or collaborated on approximately 125 books. Over the years, Steven has visited thousands of schools and has presented to countless audiences—young and old. He still remains a very popular speaker for schools and conferences.
Steven today continues to be a passionate and tireless advocate for animals and for literacy. He organizes fund-raisers in his community for a local animal shelter. He is also vice-president of the National Children's Book and Literacy Alliance (a national not-for-profit organization that was created in 1997 by award-winning children's book authors and illustrators, which advocates for literacy, literature, and libraries to be an ongoing priority on our national agenda).
Besides garnering critical and popular acclaim for his books, Steven has received several awards for his lifetime contribution to children's literature, including the prestigious Regina Medal in 1989. Steven has recently been announced as the winner of the esteemed Knickerbocker Award for Juvenile Literature for 2015, given out by the NYLA-SSLA (New York Library Association–Section of School Librarians), which recognizes a New York State author who has demonstrated, through a body of work, a consistently superior quality which supports the curriculum and educational goals of New York State schools. He is currently busy working on future projects for several publishers and continues to share his love for books, animals, nature, and art to children and adults.
Thanhha Lai
Thanhha Lai
was born in Vietnam and now lives in New York with her family. She is the author of
Inside Out & Back Again
and
Listen, Slowly
. 
Susanna Reich
Susanna Reich
 is an award-winning author of fiction and nonfiction for children and young adults, including 
Minette's Feast: The Delicious Story of Julia Child
and Her Cat, José!
, 
Born to Dance
, 
Clara Schumann: Piano Virtuoso
, 
Painting the Wild Frontier: The Art and Adventures of George Catlin
, and the forthcoming 
Fab Four Friends: The Boys Who Became the Beatles
 and 
Stand Up and Sing! The Story of Pete Seeger
. Among her honors are the Tomás Rivera Award, International Latino Book Award, NCTE Orbis Pictus Honor, ALA Notable, ALA Best Books for Young Adults, School Library Journal Best Books, Kirkus Best Young Adult Books, and Booklist Top Ten Arts Books. She lives in Ossining, NY, with her husband, children's book author Gary Golio. 
Visit her on the web: 
www.susannareich.com
Jason Reynolds
Jason Reynolds 
is the author of the critically acclaimed young adult novels, When I Was the Greatest, which won the Coretta Scott King - John Steptoe Award, and, The Boy in the Black Suit. Besides those two books, Reynolds co-authored the young adult, poetry/art book, My Name is Jason. Mine Too, and is slated to release a middle grade novel, Brave As You, as well as the first book of a series entitled, Track, in 2016. Reynolds' work shines light on the raw, yet beautifully sincere stories of underrepresented communities, and he works diligently to reach his readers in real life, traveling to schools, libraries, community centers and detention centers. Wherever he is, he professes that all stories are valuable and encourages literacy and the usage of storytelling as the ultimate link between us all. Reynolds has been reviewed and profiled by The Washington Post, NPR, Kirkus, Hornbook, School Library Journal, WNYC, Publisher's Weekly, Poets & Writers, Gawker, The Guardian, Beyonce.com, mentioned as a standout in the Wall Street Journal, AM New York, Ebony Magazine, and was nominated as a top book of the year by the New York Public Library system. He currently lives in Brooklyn, NY. 
Adam Silvera
Adam Silvera
was born and raised in the Bronx. He was a bookseller before shifting to children's publishing where he worked at a literary development company, a creative writing website for teens, and as a book reviewer of children's and young adult novels. He is tall for no reason and lives in New York City. His debut novel,
More Happy Than Not
, will be released June 16th.
Iza Trapani
Iza Trapani
is known for her popular, award-winning series of nursery rhyme extensions, including
The Itsy Bitsy Spider
, which has sold well over a million copies. Among her other titles are
Little Miss Muffet
,
The Bear Went Over the Mountain
,
Shoo Fly
and
Row Row Row Your Boat
and all are used in schools and libraries nationwide and abroad. Her 24th book,
Old King Cole
, will be released on August 4, 2015.
Visit her on the web at:
www.izatrapani.com
Read her Blog:
In and Out of My Studio
Follow her on Facebook:
https://www.facebook.com/pages/Iza-Trapani-authorillustrator/124524564224468
Audrey Vernick
Audrey Vernick
is the author of
Brothers At Bat: The True Story of An Amazing All-Brother Baseball Team
, a New York Times Notable Book. She is also the author of eight other picture books, including
Is Your Buffalo Ready for Kindergarten?
,
She Loved Baseball: The Effa Manley Story
, and
Edgar's Second Word
, and the middle-grade novels
Water Balloon
and
Screaming at the Ump
. Her 2015 release,
First Grade Dropout
(Clarion, July) is illustrated by Matthew Cordell. Audrey is a frequent presenter and instructor at schools, libraries and conferences. A two-time fiction fellowship recipient from the NJ Arts Council, she lives with her family near the ocean.
Visit her on the web at:
www.audreyvernick.com
Sarah Weeks
Sarah Weeks has written more than fifty picture books and novels for children and young adults including the best selling novels, So B. It and Pie. Two of her most recent contributions are GLAMOURPUSS (a picture book illustrated by David Small) and HONEY, a novel — both published by Scholastic. In addition to writing, Sarah is an adjunct faculty member in the prestigious Writing Program at the New School University in New York City and a founding member of ART, a traveling troupe of authors who perform reader's theatre at conventions and conferences across the country. Born and raised in Ann Arbor, Michigan, she splits her time between her homes in Nyack, NY and Callicoon Center, NY. She is married to a High School history teacher and has two grown sons. 
Carol Weston
Carol Weston
is a writer and speaker. The author of 14 books, she has been the "Dear Carol" advice columnist at
Girl's Life
since 1994. Her most recent novels are
Ava and Pip
("a love letter to language" - The New York Times) and
Ava and Taco Cat
("purrfect" -Vanity Fair), published in 2015 and 2014 by Sourcebooks/Jabberwocky. She is also the author of
The Diary of Melanie Martin
(Knopf) and
Girltalk: All the stuff your sister never told you
(HarperCollins) which has been in print since 1985 and came out in a dozen languages. A Phi Beta Kappa graduate of Yale, she majored in French and Spanish Comparative Literature and has her M.A. in Spanish from Middlebury. She has appeared on
Today
,
Oprah
, and
The View
and lives in Manhattan.
Visit her on the web at:
carolweston.com
Follow her on Facebook:
https://www.facebook.com/WriterCarolWeston
Ed Young
Ed Young
, Caldecott Medalist, is the illustrator of over eighty books for children, seventeen of which he has also written. Born in Tientsin, China, Ed Young grew up in Shanghai and later moved to Hong Kong. As a young man, he came to the United States on a student visa to study architecture but turned instead to his love of art. Young began his career as a commercial artist in advertising and found himself looking for something more expansive, expressive, and timeless. He discovered all this, and more, in children's books. A graduate of the Art Center College of Design in Pasadena, Young has since taught at the Pratt Institute, Yale University, Naropa Institute, and the University of California at Santa Cruz. In 1990, his book
Lon Po Po
was awarded the Caldecott Medal. He has also received two Caldecott Honors – for
The Emperor and the Kite
and
Seven Blind Mice
– and was twice nominated for the Hans Christian Andersen Medal, the highest international recognition given to children's book authors and illustrators who have made a lasting contribution to children's literature. Young lives in Westchester County, New York, with his two daughters, and two cats.